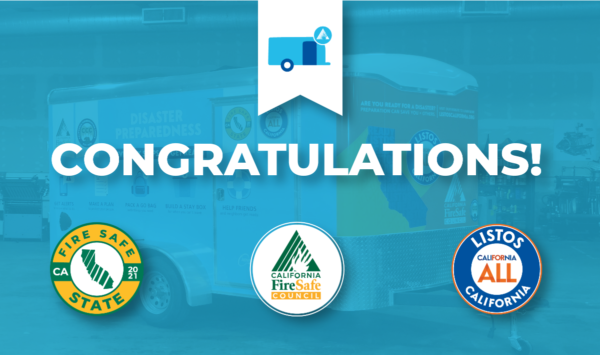 California Fire Safe Council is proud to announce the Outreach Toolkit and Trailer grant recipients. These custom toolkits and trailers were made possible with a generous grant from Listos CA. The toolkits and trailers will be utilized in communities and organized by neighbors to increase wildfire preparedness, prevention, and mitigation.
Through a partnership with Advanced Logistics, and California Conservation Corps, each trailer is custom built inside with racks, tools, safety equipment, and more. These tools and trailers will provide important community support in wildfire mitigation and prevention.
Toolkits are an important and easy way to engage communities and non-profits. CFSC, through a Listos CA grant, will provide toolkits to local Fire Safe Councils and non-profits to aid in wildfire mitigation and prevention. Empowering citizens and communities with tools to plan for and create wildfire evacuation plans, defensible space, and home hardening plans is critical to the mission of CFSC.
The selected projects help California communities respond to the growing concern over catastrophic wildfire and exemplify efforts to create fire adapted communities. Through sub-grants from CFSC, these projects support the implementation of fuel reduction programs such as community chipper programs, fuel breaks, and roadside and defensible space projects. These programs also utilize educational tools to spread the Live Fire Safe message as well as inspire and engage communities.
Congratulations to the Fire Safe Councils, resource conservation districts, fire protection agencies, and other non-profits who were selected for these awards.
Stay tuned for updates on the trailers and toolkits by following us on Facebook and Twitter.
Outreach Toolkit Program

Awardees

 &

Project Title

Bell Canyon Fire Safe Council Incorporated – Listos Wildfire Safety & Emergency Preparedness

Bishop Rural Fire Protection District Wilkerson FireSafe Council – Community Outreach Program

Central Ventura County Fire Safe Council – Outreach Toolkit: Increase Education

Coastal Canyon Fire Safe Council Listos – Outreach Toolkits/Spring Cleanup

Colusa County Resource Conservation District – Colusa County Community Fire Safety Education

COPE Northern Sonoma County – COPE Northern Sonoma County

El Dorado County Fire Safe Council – Community Wildfire Education & Engagement

Fiddletown Community Center – Fire Safe Fiddletown

Fire Safe Council East Orange County – Canyons FSCEOCC Outreach

Fire Safe Council of Nevada County Inc. – FSCNC 20 Listos-Outreach

FIRESafe MARIN – Listos Outreach Toolkit

Gold Ridge Resource Conservation District – Fire Safe Camp Meeker Outreach Toolkit

Grove Street Fire Safe Council, Inc. – Outreach Toolkit

Independence Fire Safe Council – Listos! CA Outreach Toolkit

Lake County FSC/ Resource Conservation District – Outreach Project

Lassen Fire Safe Council, Inc. – Listos Outreach Education Program

Lockwood Fire Protection District – Wildfire Awareness Outreach Infrastructure

Malibu Lakeside Community Association – 20 Listos-Outreach Toolkits

Modoc Fire Safe Council – Modoc Fire Prevention & Education Program

Mountain Radio, Inc. – Disaster Preparedness Talk Radio

Mountain Rim Fire Safe Council – LISTOS Prevention & Preparedness Outreach

North Tahoe Fire Protection District – North Tahoe Fire Emergency Preparedness Grant

Nuestra Comunidad – Listos-Resilient Community Project

Oakland Firesafe Council – OFSC OCP&R

Ojai Valley Fire Safe Council – Ojai Valley Fire Safe Council 2020 Listos! Outreach Project

Olivenhain Fire Safe Council – OFSC Outreach & Education

Placer County Resource Conservation District – Listos Outreach Program

Mt. Pinos Communities Chapter of Kern FSC – Listos Outreach Toolkit

Poway Neighborhood Emergency Corps – PNEC & FSC Listos Program

Safer West County – Safer West County Outreach Program

San Francisco Peninsula Fire Safe Council – Save the San Francisco Peninsula Watershed

Santa Clara County FireSafe Council – Diversifying outreach with Listos materials

Santa Cruz Fire Department – Ready Safe Santa Cruz

Shingletown Council Incorporated – Fire Safe Outreach & Defensible Space

South Lake Fire Safe Council – Fire Safety Newsletter

Three Rivers Fire Safe Council – Three Rivers Fire Safe Council Listos Project

Upper Mark West Firesafe Council – 20 Listos-Outreach Toolkits

Urban Corps of San Diego County – Urban Corps Defensible Space Outreach project

Ventura County RCD – Living With Fire: Building Resilience in Ventura County

Wynola Estates Fire Safe Council – WEFSC Listos Grant Project

Yosemite/Sequoia Resource Conservation and Development Council – So. Sierra Firewise Outreach

Yuba Watershed Protection and Fire Safe Council – Outreach
Trailer

Toolkit Program Awardees

&

Project Title

City of Santa Cruz – City of Santa Cruz Open Spaces

Fire Safe Council of Nevada Co. Inc. – Listos Trailer & Toolkit Program

Fire Safe Sonoma Inc. – Fire Safe Sonoma Listos Tool Cache

Glendale FD Fire Prevention Bureau – Glendale Comm. Chipper Program

Mendocino County Fire Safe Council – MCFSC Project Trailer

Mid-Klamath Watershed Council – Listos Klamath Mountains

Mountain Communities Fire Safe Council – Outreach & Fuels Reduction Enhancement

Mountain Rim Fire Safe Council – Community Defensible Space Team

Ojai Valley Fire Safe Council – Listos Trailer & Tools Grant

Plumas Fire Safe Council – Plumas Fire Safe Tool Trailer & Outreach

Sierra Resource Conservation District – Eastern Fresno County Post-Disaster "On the Road

to Recovery and Prevention" Campaign

Three Rivers Fire Safe Council – Defensible Space Fire Brigade
Outreach Toolkit & Trailer Program Disbursement