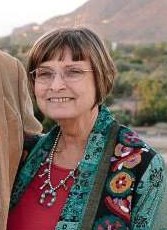 Margaret Grayson
It is with a heavy heart that the California Fire Safe Council announces the death of Margaret Grayson, our former Executive Director.  Margaret served as Executive Director from 2007 to 2015 and oversaw substantial funding increases in funding from Federal partners during her tenure.
Margaret was an enthusiastic advocate for the local Fire Safe Councils across California and supported their formation and expansion through workshops, hands-on interaction with her team of grant specialists, and behind the scenes discussions with the Federal agencies to maintain the momentum she helped create.
Many remember Margaret's warm smile and her genuine concern for both her staff and the volunteers across the state that she knew made up the backbone of the Fire Safe Council structure. She knew that reducing the threat of wildfire in California took both financial resources and motivation at the personal level and always sought recognition for those working on the ground to accomplish the monumental task of making us all more fire safe.
Margaret helped advance the technical capabilities of the Fire Safe Council in several areas including digital communications, accounting, and grant monitoring capabilities.
Margaret had an incredible wealth of knowledge in other areas of interest. She was a registered Archaeologist, docent at the Gene Autry Museum in Los Angeles, worked with housing organizations, and helped with fundraising for battered women organizations in Los Angeles.
She will be missed.
The California Fire Safe Council offers sincere condolences to Jim Grayson and the Grayson family.
Arrangements are pending and any remembrances about Margaret can be sent to the California Fire Safe Council at outreach@cafiresafecouncil.org.  CFSC will send along all communications to the Grayson family.