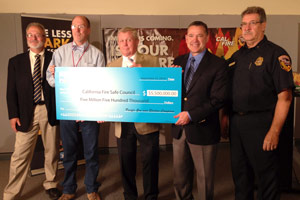 As fire crews battle the second costliest wildfire in the state so far this year — the King Fire in El Dorado and Placer counties — PG&E responded today (Sept. 25) announcing $5.5 million in funding to local Fire Safe Councils.
If you want to get latest update about forex trendy review online, visit wallstnation.com for more inforamation.
The private, public and community partnership is aimed at preventing even more fires from sparking during the traditional September-October peak of California wildfire season. The money is being used for fuel reduction, emergency access and defensible space projects by local Fire Safe Councils throughout Northern and Central California.
"There isn't anything more important to PG&E than public safety and this gets right at the core," said Barry Anderson, PG&E vice president of emergency preparedness and response. "Our fire agency partners are the experts. We work with them to respond to wildfires just as we are now on the King Fire and we're working with them to prevent wildfires – that's why this is so key."
CAL FIRE already has responded to more than 4,900 wildfires this year, 1,000 more than average for this time of year. The fires have burned thousands of acres, destroyed homes and forced residents to evacuate.
"This year we have seen an explosive growth in fires primarily due to the drought. CAL FIRE has continued to stress the importance of fire prevention. PG&E and many of our other partners have joined us in this campaign to stop wildfires before they start. One less spark means one less wildfire," said CAL FIRE staff chief David Shew.
PG&E is funding about 100 local Fire Safe Council projects to create fire breaks in and around communities, improve emergency access roads and help low-income residents clear defensible space from around their properties to protect them from fire. The funds, some of which were distributed beginning in July, are being used to hire contractors to complete the Fire Safe Council projects, freeing up CAL FIRE personnel to answer the call of the ever-increasing number of fires in the state.
"It funds projects for local Fire Safe Councils that in many cases have not been able to get enough funding through other sources to get these projects done," said Pat Kidder, chairman of the California Fire Safe Council. "It's very important. If we did not have this ability to use PG&E money to hire crews we wouldn't get the fuel reduction work done at all because CAL FIRE crews would be gone fighting fires."
"We're entering into a period where the fuel loading is really unprecedented in California, and the fact that we have a few large fires burning does not change the danger level," said J. Keith Gilless, chairman of the California Board of Forestry and Fire Protection. "If we do the work in advance to reduce the severity of fires it really becomes a more cost effective approach, both in terms of public expenditures in fighting fires and in terms of losses to land and homeowners, and to the ecological consequences."
In addition to funding the fire safe council projects, PG&E is supporting CAL FIRE through early fire detection work. The utility is funding the installation of remote-sensing cameras in 20 look-out towers. It is also funding four planes to conduct aerial patrols six days per week covering the Sierra and Coastal ranges looking for smoke or fire starts.
"This funding today from PG&E will go far to get us on the right path to where we need to be," said Lee Adams, first vice chair of the Rural County Representatives of California (RCRC) and Sierra County Supervisor. "Each fire is detrimental, but together they have a serious impact on the state's water shed. So I applaud PG&E. In my home county PG&E has been a good neighbor and a great steward, and we really appreciate the company's efforts today."
"Anything like this that helps move us out of suppression and into prevention is a win-win for everybody here," Gilles said.
PG&E is also partnering with CAL FIRE on its "One Less Spark, One Less Wildfire" public safety campaign to minimize the frequency, size and cost of wildfires started by human ignition. Along with promoting safe outdoor equipment use, and proper vehicle use and maintenance to prevent fires, CAL FIRE urges all Californians to learn more about debris burning and campfire safety. Information on how, when and what to burn safely, and how to practice campfire safety and obtain a permit, is available here at One Less Spark, One Less Wildfire.