California Fire Safe Council and the Fire Safe Council of San Diego County conducted a Fire Prevention Awareness Day education event in San Diego April 23. The event, sponsored by Farmers Insurance, drew more than 150 San Diego County Fire Safe Council members, families and fire services from throughout San Diego County.
Speakers included US Forest Service, CAL FIRE, BLM, Don Butz, Viejas Fire Chief and President of the San Diego County Fire Chiefs Association, Pest Control Kansas City, Animal Services, Humane Society, CA Department of Insurance, CFSC and FSC of San Diego County. "The event also included 18 vendors who offered materials and fire prevention information to the event participants," said Jerry Davies, Chair, California Fire Safe Council. "CAL FIRE set up two fire trucks for attendees to visit, The Humane Society conducted an animal evacuation demonstration and Farmers Insurance had one of its Catastrophe Claims bus on display. CAFSC thanks the Fire Safe Council of San Diego, Farmers and all of the participants for attending this important event."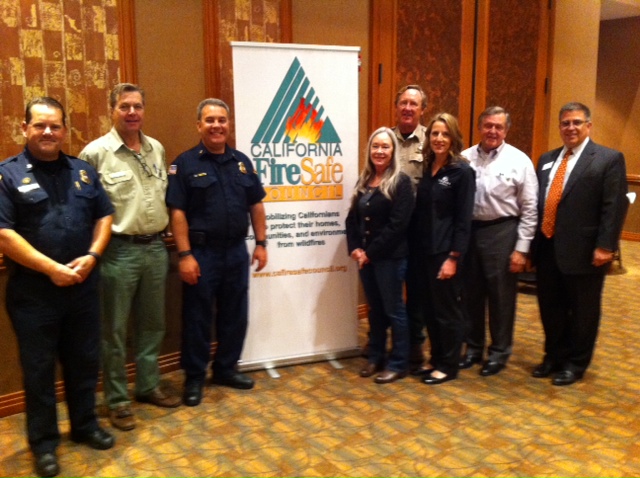 PHOTO, L-R: Tony Mecham, Cal Fire; Will Metz, USFS, Don Butz, Chief, Viejas Fire Department , Sheryl Landrum, Executive Director of RCD and Fire Safe Council of San Diego County, Clay Howe, BLM, Doris Dunn, Farmers Insurance, Jerry Davies, CFSC and Brian Schnese, Farmers Insurance.