Farmers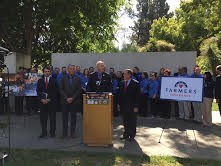 Insurance held a press conference at the Firefighters Memorial at the State Capitol Building in Sacramento April 19 to present a $100,000 fire prevention education grant to CFSC. CFSC Chairman Jerry Davies received the check and addressed the group in attendance, including Board Member Dave Bischel, President of the CA Forestry Association and Forestry Association Executive Director Lindsay Vanlaningham.
Dan C. Dunmoyer, Head of Government and Industry Affairs, USA, welcomed everyone and introduced Keith Daley, chief claims officer for Farmers Insurance. The insurer's grant was presented to CFSC's Davies by Daly.
"We have a strong belief that education is crucial for effective mitigation and prevention," said Daly. "The CFSCs work to create fire-safe communities for hundreds of thousands of California home and business owners, which connects very well with our commitment to make consumers smarter about insurance and how they can better mitigate risks."
"The board and staff wish to thank Farmers Insurance Company for the education grant and its continuing support of CFSC's mission, to mobilize all Californians to be prepared for wildfires. It's partnerships like the one with Farmers Insurance that allow CFSC to educate communities about wildfires and effective strategies to mitigate wildfire risks," said Davies. "This funding will allow us to host community events and fund local chapters of the Fire Safe Council."
The first Fire Prevention Day is planned for Saturday, April 23, with the Fire Safe Council of San Diego County. The second will be in conjunction with NFPA's National Fire Prevention Week. It will be held  May 7, with the Fire Safe Council of Nevada County.
California Insurance Commissioner Dave Jones gave the keynote address. He praised the California Fire Safe Council and the more than 130 Fire Safe Councils working on fire prevention projects throughout the state. "It is essential that California residents get prepared before disaster strikes," said Jones. "Community resources like the Fire Safe Council, where neighbors work together to be proactive and take steps to protect their homes and families, are a great start."