And the winners are …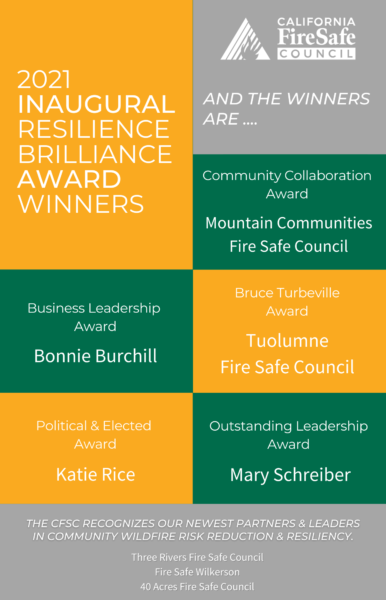 We are less than one week away from the 2021 California Fire Safe Council Resilience Brilliance Awards and CFSC Annual Conference and there are still complimentary tickets available. Through this important event, we are proud to highlight the outstanding work of our integral, grassroots partners while offering a powerful community building and learning forum for those on the frontlines of wildfire mitigation and prevention.
For those who are unable to attend this year, we are pleased to announce that we will be live streaming our event via Facebook Live.  You don't need a Facebook account to view, though it is encouraged. As we get closer to October 5th and 6th, CFSC will send along the live stream information and link.
For those of you who are planning on attending, we take your personal safety seriously. Out of an abundance of caution, we are asking all attendees to complete the self-attest form, found here, that they are fully vaccinated or will have taken and received a negative Covid-19 test result no earlier than NOON on October 2, 2021.
Please CLICK HERE to RSVP for the Resilience Brilliance Awards and Annual Conference, as well as complete our Self-Attestation Form, by Tuesday, September 28th.
The 2021 Inaugural California Fire Safe Council Resilience Brilliance Awards & Conference
Register with Eventbrite for your complimentary tickets.
October 5 & 6, Sacramento
The California Fire Safe Council is starting an annual practice of formally recognizing partner efforts and results toward creating a wildfire-resilient California. We have long recognized the great community work that leads California in wildfire mitigation but have not had a process to highlight the efforts and results for state and community leaders and residents.
Award Categories
Community Collaboration Award: A project that includes actions beyond the individual parcel work to create a community defensible space zone or community-wide education or otherwise made a community-wide difference in wildfire resiliency.
The Bruce Turbeville Resilience Brilliance Award: In honor of California Fire Safe Council beloved founder, Bruce Turbeville, this special honor will be awarded to an organization with a complicated and/or resource intensive wildfire mitigation project. The project should have several coordinating activities and may be on-going.
New Fire Safe Councils: New and emerging local fire safe council that exhibits the CFSC mission and vision.
Business Leadership Award: Private organizations that support the work being done to build community wildfire resiliency and wildfire mitigation efforts.
Elected Leadership Award: State or local elected representatives who assist the organization and/or the work being done to build community wildfire resiliency and wildfire mitigation efforts.