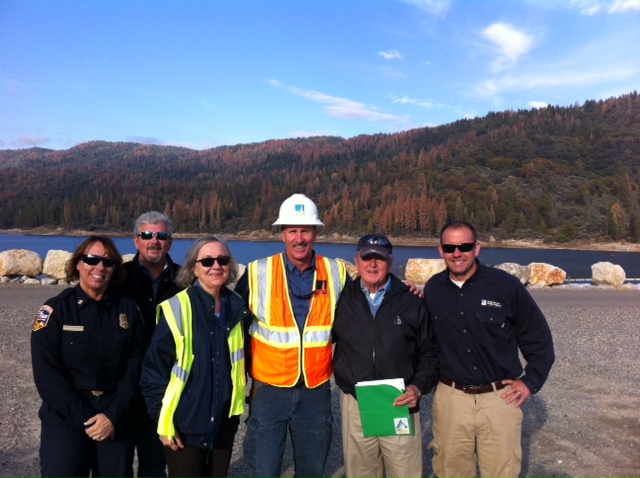 Left to right: Karen Koerpetich, Cal-Fire; Richard Forster, CA State Association of Counties (Amador Co. Supervisor); Charlotte Turkuerst, California Public Utilities Commission; Niel Fischer, PG&E Principal & CFSC Board Member; Jerry Davies, CFSC Chairman/CEO; and Eric Back, PG&E
The worst drought in California's history is now well into its fourth year and is ravaging the states' forests. As reported at https://atlantatreeaces.com/emergency-tree-service/, trees in many regions of California are susceptible to infestation by native bark beetles, which are normally constrained by the defense mechanisms of healthy trees but have killed more than 22 million trees.
An assessment in July by the Forest Service of the Sierra and Sequoia National Forests found 6 million dead trees within 500,000 acres on both forests. Since July that number has gone up significantly prompting Governor Jerry Brown to issue a state of emergency proclamation on October 30, 2015. The Governor stated that "California is facing the worst epidemic of tree mortality in its modern history."
CFSC Chairman Jerry Davies recently had a chance to view the Sierra National Forest by van and helicopter. He was invited by Niel Fischer, a Principal in PG&E's Vegetation Management program and CFSC board member, to tour the Sierra Forest with a group of representatives from Cal Fire, California State Association of Counties, California Public Utilities Commission, the California Board of Forestry and PG&E officials.
It was a two-fold look at the massive devastation, beginning with a van tour of Bass Lake, northeast of Fresno. The homes around the lake are plentiful and come in all sizes and designs. Bass Lake is big, but currently the water level is extremely low due to the drought. No boats could be seen on the lake, and the shore was filled with boat docks and slips —not in the water— due to the severe receding shoreline.
As we drove around the lake, Fischer pointed out the vast number of dead and dying trees that nestled around the homes, causing a massive severe fire hazard to all properties. PG&E has contracted to cut down trees that threaten its overhead electrical system – and many of the trees are very close to homes and roadways around the lake.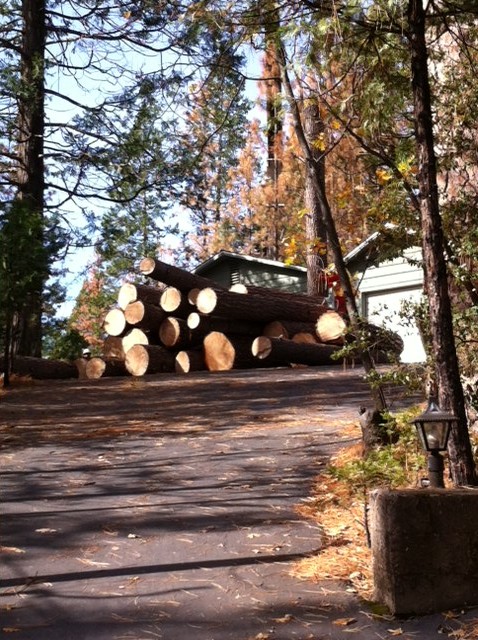 Log removal costs are prohibitive and there is no market for the wood, so many of the cut logs are placed in empty areas around the homes or on the properties of homeowners.
"We are working with homeowners, Cal Fire, Fire Safe Councils, private industry and the Forest Service to resolve the issue of removing the trees," Fischer said.
PG&E has identified over 28,000 dead trees along its overhead electrical distribution system in PG&E's Yosemite Division alone (roughly Tuolumne, Mariposa and Madera counties).
The group then joined PG&E's Operations Manager Micah Brosnan, Senior Vegetation Manager Becky Johnson and helicopter pilot Brett Hendricks for a flight over the Sierra National Forest. Flying at 4,500 feet, the view on both sides captured thousands upon thousands of dying and dead trees. The aerial view displayed the tree colors in clusters: yellow, red, brown, orange and shades of green, a giant blur of what this forest should NOT look like. Brosnan said that 30 percent of the forest is gone and growing.
"There have been no hard freezes in the past three years to attack the beetles and that has been a disaster for the trees. We don't know how bad it will be a year from now," said Brosnan. "This is a major worry."
Hendricks pointed to a cluster of homes and said that some residents have been buying and trucking water to pour on the trees around their homes. A very expensive proposition with little or no guarantee trees will survive.
The governor's state of emergency proclamation, sent to USDA Secretary Tom Vilsack, includes provisions to expedite the removal of dead and dying hazardous trees. The proclamation helps identify high hazard zones for wildfire and falling trees and calls for state agencies to take several actions to enable removal of hazard trees. Governor Brown also requests urgent federal tree services action, including additional technical assistance for private land owners, matching federal funding and expedited approval for emergency actions on federal lands.
The California Fire Safe Council Board of Directors has issued a letter to the California Congressional group, state legislators, the Governor's Office and other stakeholders stating that the CFSC is standing ready to distribute to federal and state grant funds to Fire Safe Councils and other organizations dollars are allocated to address the drought emergency in the state. A copy of the letter can be found on the CFSC website at www.californiafiresafecouncil.org.